History
Starting from the intention to improve and integrate all hotel business units owned by PT. Sango Ceramics and building a new culture within the Hotel business unit so that it can be more competitive in the hospitality industry in Indonesia and build a stronger Brand Image in the Market, then Mr. Sapto Hidayat and Mrs. Asteria built a new division within the Sango group, a HOTEL OPERATOR under the banner of PT . SANGO HOTEL MANAGEMENT, with the name SHM ( SANGO HOTEL MANAGEMENT)
Start Operating on April 01, 2021
Initial "S" at Logo SHM it is took from the filosofi of Yin and Yang, which are Stability and Balance.
GOLD color is the color of Wealth and Success. Gold is commonly associated with Prosperity, Prestige and Influence but it is also Generous and Compasionate.
Sejarah
Berawal dari niat untuk memperbaiki dan mengintegrasikan seluruh unit usaha hotel milik PT. Sango Keramik dan membangun budaya baru dalam unit usaha Hotel agar bisa lebih kompetitif dan bersaing di industri perhotelan di Indonesia dan membangun Citra Merek lebih Kuat di Pasar , maka Bpk. Sapto Hidayat dan Ibu Asteria membangun satu divisi Baru dalam grup Sango, Sebuah HOTEL OPERATOR di bawah bendera PT . SANGO HOTEL MANAGEMENT, dengan nama SHM ( SANGO HOTEL MENAGEMENT).
Mulai Beroperasi pada 01 April 2021
Awalan "S" pada Logo SHM diambil dari filosofi Yin dan Yang yaitu Stabilitas dan Keseimbangan.
Warna EMAS adalah warna Kekayaan dan Kesuksesan.
Emas umumnya diasosiasikan dengan Kemakmuran, kehormatan dan Wibawa tetapi juga Murah Hati dan Pengasih.
Our Vision
We are An Organization that growing swiftly to the top of hospitality industry by exceeding guest expectation, designing and delivering product and service that optimize the guest Experience.
Visi Kami
Kami adalah Organisasi yang berkembang pesat ke arah TOP Hospitality Industry dengan memberikan pelayanan terbaik  yang melampaui harapan Tamu serta memberikan produk terbaik serta pelayanan terbaik dan memaksimalkan pengalaman terbaik dari setiap Customer /tamu.
Our Mission
To develop and manage hotel properties that commited to provide the Best Guest Experience possible and yield sustainable profitsfor stake holder and best working environment for employee.
Misi Kami
Membangun dan mengelola hotel property  yang berkomitment dan berintegritas serta memberikan pengalaman terbaik bagi Tamunya, Keuntungan yang terbaik serta berkesinambungan bagi investor/pemilik  dan lingkungan kerja terbaik bagi setiap karyawan.
Our Values
Exceptional Service

Provide Superior standard of service

Integrity

Honest, Hardwork, Loyal,to Guest – Owner-Colleagues

Respect

Respect the Objectives given, the valuesof our guest and the cultural difference

Teamwork and Passion

Bring individual expertise, creativity and passion as Sango Family Member

Continous Improvement

We are innovative utilize best practices to continually improve our management tecniques and quality of our product and service
Nilai – nilai Kami
Layanan luar biasa  – memberikan standar layanan yang unggul
Integritas – jujur, kerja keras, setia, kepada tamu-pemilik-rekan kerja
Rasa Hormat – menghormati pekerjaan yang diberikan, nilai-nilai tamu kita dan       perbedaan budaya.
Kerjasama Tim & Semangat – membawa keahlian, kreativitas, dan semangat individu sebagai anggota Keluarga Sango
Peningkatan Berkelanjutan – kami inovatif dan memanfaatkan praktik terbaik untuk terus meningkatkan teknik manajemen dan kualitas produk dan layanan kami.
Structure Organization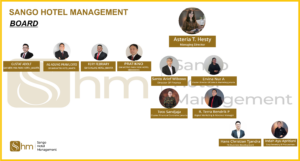 Our Pipeline